Ernie's Ride 2020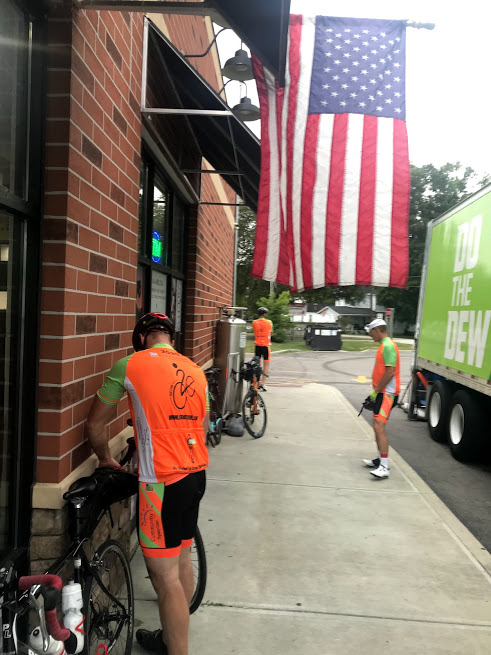 Ernie's Ride 2020, like everything else 2020, was strange & filled with uncertainty. But at exactly 6:00 am on Friday, September 11, with temps in the mid-60s, Chad Settlage, Scott Wright, Kevin Brown, Dave Huff, Luke Williams, & I rolled away from Paul Brown Stadium in Cincinnati with our eyes set on Lake Erie on Sunday. The first leg is always the longest due to a dearth of restaurants open early along our route. Breakfast would be in Spring Valley, Ohio, 60 miles in. We navigated the Cincy trail and roads efficiently and picked up the Little Miami trail on the north side of Mariemont.
At the Loveland Trailhead we took a very short nature break before continuing on to Morrow. After a short break for fluids & a snack at the Beverage Depot in Morrow, it was 21 miles (about an hour & 20 minutes) to Slim's in Spring Valley at about 10:15 am. It's always a challenge to find that balance between getting enough calories into your body and eating so much that you feel bad when you get back on the bike. We did our best to strike that balance and headed back to the trail at 11:20.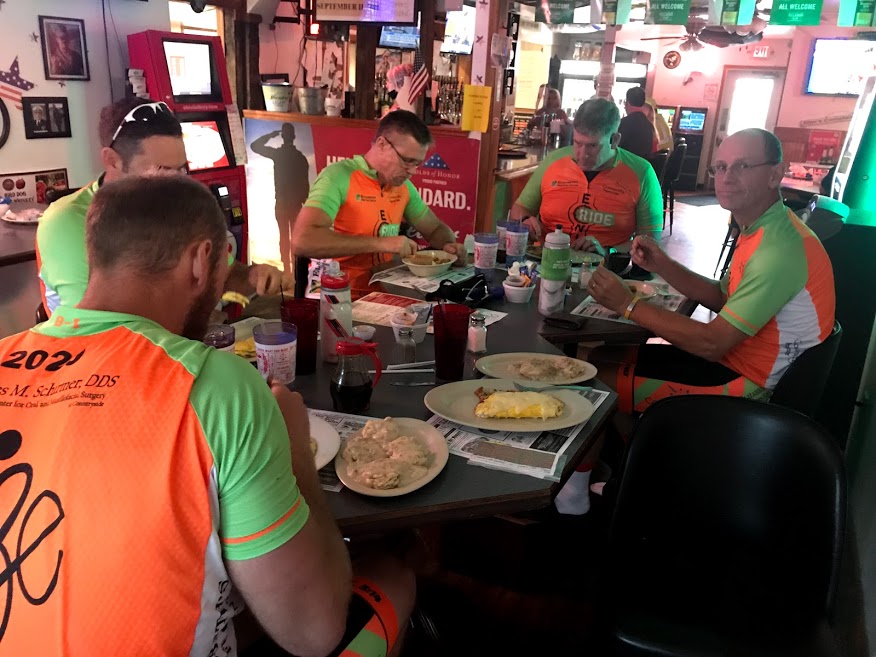 Xenia passed by uneventfully and we transitioned onto the Prairie Grass Trail heading northeast. This section of Trail is more open than most of the Little Miami Trail and it allowed us to relax a little as we pushed into Cedarville where we took on water at the fountain provided by the Hearthstone Inn & Suites. At that point we were a little over 75 miles into our 118-mile 1st day, as we saddled up aimed for the quaint little town of South Charleston where we took a short break at the IGA, making use of their outdoor benches. Just north of South Charleston, we picked up the Roberts-Pass Trail, for another 11-12 miles into London, Ohio for a late lunch at M&M Diner. Both South Charleston & London require a short bit of riding on the roads, and it is always a welcome distraction from the thoughts of one's legs & seat. And, as a bonus, both towns are like a short step back in time when life was lived at a slower pace.
After fueling up at M&M, it was just a few minutes after 3:00 when we jumped back on the bikes for the final 22 miles to our hotel in Columbus. Just a little less than an hour later, we reached Scott Wright's favorite part of the entire day - the climb out of Battelle Darby Creek Park. The nice thing is, that once that climb is finished, it's pretty easy riding the last 7 miles into Columbus where we checked into our hotel at 4:30 for some air-conditioning and a relaxing shower prior to walking a couple blocks to supper. After supper, we washed our cycling kits in the hotel laundry and crawled into bed with more than 118 miles under our belts and more than $8,000 raised.
By 5:30 on Saturday morning, most were making our way to the continental breakfast in the hotel lobby. Pre-ride nutrition was one place where we felt the impact of 2020's peculiarity. Hotels were putting out very little and much was pre-packaged. We missed the buffet-style nourishment but we had a mission to complete and so, just after 6:10 am, six cyclists rolled onto West Broad Street in Columbus to begin a 104-mile day.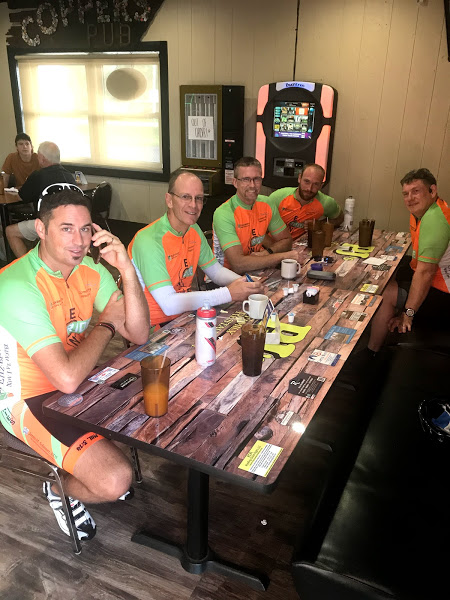 Columbus is a fun ride in the early morning hours of a Saturday. Traffic is light and we get to do some city riding followed by some really nice - albeit a bit winding - park trails. We took our normal 15-minute break at the Speedway at mile 27 & resumed riding toward Sunbury where we found PJ's Family Restaurant - and it was great! We rolled out of PJ's just before 10:30 and, after some navigation issues getting out of metropolitan Sunbury, we were back on track with about 10 miles on country roads before we picked up the Heart of Ohio Trail west of Centerburg, Ohio. Once you get on the western end of the HOOT, it's about 4.5 miles of very gradual climbing before a very fast 10-mile gradual descent into Mt. Vernon. It was not uneventful, though. Just a few miles from Mt. Vernon, Chad invited a mad bee into his helmet and the bee was not appreciative of the accommodations! It was a painful sting on the noggin for Chad and just a couple minutes later I, also, picked up a stinger in my thigh.
Coming into Mt. Vernon, we took a short break at the Tower, then rolled on over to Wendy's for a half-hour lunch. It hadn't been all that long since breakfast, so most (not to include Luke) took on a light lunch and we headed back out to the Kokosing Gap Trail for the final 40 miles into Millersburg. Passing through Gambier (short nature break at the Kenyon College trailhead) our next short break came at a picnic shelter at the Danville trailhead. It was about 2:30 when we pedaled out the east side of Danville on the Mohican Valley Trail, across the Bridge of Dreams, and at the 83-mile mark we started our longest climb on Ernie's Ride: the gradual 3.5 mile ride rising just over 250' and then descending about the same into the little town of Glenmont. After a short break at the Glenmont Trailhead, we took to the roads for a few rolling hills to get over to the little burg of Killbuck. On the north end of Killbuck we picked up the Holmes County Trail for our final 6 miles to our hotel in Millersburg at about 4:30. Same routine as last night: showers, supper, & laundry before much-appreciated sleep.
Sunday morning brought a new challenge: Thunderstorms. We met in the lobby for a truncated continental breakfast as the rain came down outside. We prayed for God's wisdom and asked others to pray, too. Then, seeing a slight break in the weather, we departed the hotel in the darkness with a light rain falling. After 10-miles of trail riding we heading to the roads for almost the entirety of the rest of the day. We took a pretty good soaking on the way to Orrville, but after 28 miles we pulled into Mrs. J's Restaurant, a little damp and very hungry.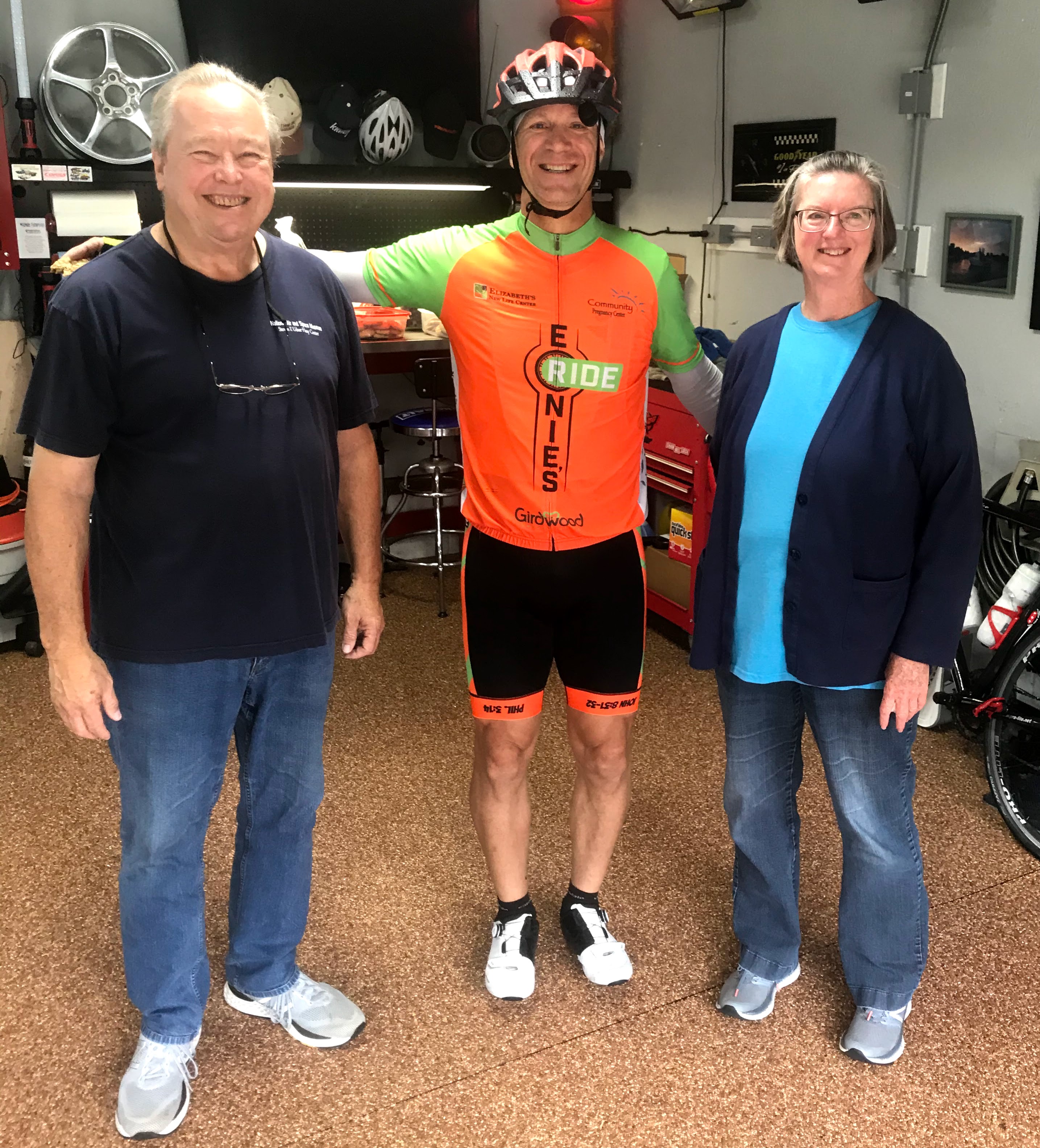 Our next stop was at the home of friends, Bill & Sandra, in Seville, who so graciously provided us with snacks & drinks, and much needed encouragement to get us back on the road. We were 45 miles into a 103-mile day. We had been soaked on a busy road. But the weather was improving and it looked like we might be able to make it to the lake. By 1:45, we were pulling into Nancy's Main Street Diner in Grafton, Ohio. It wasn't my favorite place (the mask Nazi's were strict) but Chad loved the fact that the Browns were on the television near our table - - so it was tolerable.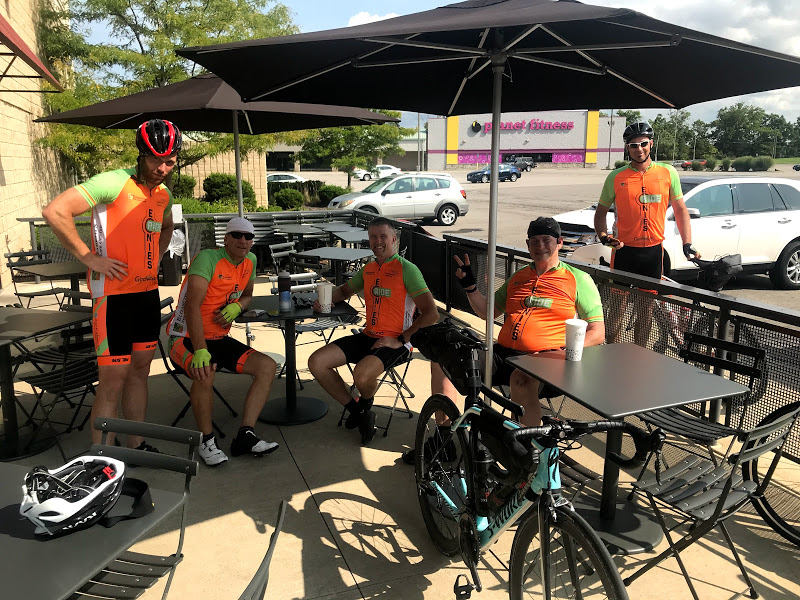 After lunch, we were on the roads again, thru Oberlin and into Elyria (west of Cleveland) for a short break at a Chipotle restaurant at about 3:15 pm. Due to the fear over the virus, it was rare to find a restaurant where you could really relax. This place was no exception, as some customers were heard to complain that we were in the outside dining area - - all by ourselves - - without masks. But the entire reason for avoiding Cleveland this year was because of that city's public campaign to encourage citizens to turn in fellow citizens who were observed without masking up. So, the obstacles we actually did encounter were probably less than those we would have found in Cleveland. But because of this, our destination for Ernie's Ride 2020 was not Edgewater Park in Cleveland. It was, instead, Lakeview Park in Lorain, Ohio - now just 12 miles away. We managed to find one more surprise hill just after leaving Chipotle. Dave, Kevin, & Luke flew up it like it wasn't even there and Chad, Scott, and I did not. But even with the hill and navigating an entirely new 3rd-day route to the Lake, we rolled into the park just before 4:30 and within a few minutes Kent Keller was there to load our bikes and drive us back home. More than 330 miles covered by 6 riders in 3 days and we raised over $22,000 to save innocent children and to assist their moms & dads through Elizabeth's New Life Center and Community Pregnancy Center. We were tired and grubby and it was hard to find a good place to eat on the way home but, by the Grace of God, all six riders had completed the course!